There are many different ways you can promote your business. You can rent a billboard. You can send out mailers and put up flyers. Almost every business does some kind of online promotion, even if it's just claiming their Google listing or making a Facebook page. While even online advertising is something of a given now instead of being innovative, there are some new ways of marketing your company. One of the newest options is to put vinyl car decals on your vehicle. These decals help you promote your business wherever you are, and they're very affordable.
If you've never looked into what car decals offer or how they work, you may be surprised at what a great investment they are. Let's take a look at the basics of vehicle advertising and how it can help you grow your customer base.
Leverage Your Car
Few people think about their cars as something they could leverage for promotional purposes. However, if you think about it, they're essentially a blank canvas. While you're rightfully hesitant to paint anything on your car so you don't damage it, there are ways you can turn it into a moving billboard. All you need to do is add a few vinyl car decals or even do a full vehicle wrap.
When you park somewhere, a lot of people see your car. However, unless it's a really expensive car or has a unique paint color, few people pay any attention to it. No one's looking at yet another white SUV, red truck, or blue van in a parking lot with dozens of other vehicles that look similar. Add a large decal with your company name or apply a full-body wrap with bright colors and other images, though, and your vehicle will stand out. People will take note, especially if you park at the edge of the lot or up front where one or both sides of the vehicle can be clearly seen.
It's a Good Return on Your Investment
You may be wondering "how much does it cost to vinyl wrap a car?" It's very affordable, though prices do vary depending on the size of your vehicle and if you want it fully wrapped or just want to apply a decal. It may be cheaper than renting a billboard, especially billboards located at very busy intersections.
Billboards are often rented out for specific periods of time, too. You may only have 30 days of advertising. With a vehicle wrap or decal, though, you can advertise for months or even years. The vinyl used is very high-quality, and it takes a lot to damage it. The inks used in printing are designed to retain their vibrancy despite the hours your vehicle will spend in the sun. As far as small business advertising goes, this is one of the best investments you can make in regard to how long it lasts. You're not renting space or putting up temporary flyers.
Vinyl Car Decals Let You Advertise Wherever You Go
Another drawback to billboards, plus banners and flyers, is that they're stationary. You have to carefully choose where you put these marketing tools. If you put them in the wrong place, they may not perform as expected. You could spend a lot of money on a brand awareness campaign but see very little return.
With a vinyl car decal or wrap, though, you're not locked into one area. You're advertising wherever you park your vehicle. It's a passive form of advertising—you're not putting a flyer in a potential customer's hand—but there's also no action you have to take. Simply park your car somewhere. Whoever sees it will learn about your company. While there's no guarantee that they will follow up by visiting your website or store right away, they still become aware of your brand. They may remember it when they have a specific need later on.
This means you can advertise in other local areas without paying to have billboards put up. You could park at a restaurant and let your vinyl car decals advertise you while you have lunch. Park at a mall and you advertise while shopping. You can potentially reach many more potential customers than you could with a stationary ad. If you have an eCommerce component to your business, you can even bring in potential customers while on a road trip.
The Decals Can Be Removed
Of course, you may not want to use the same decals all the time. These decals are like stickers, and they can be removed without damaging your vehicle's paint job. Even full car wraps can be removed and replaced. You may not want to do this all the time, but it is an option. If you rebrand, you're not stuck with the decals on your car. You can swap them out fairly quickly. You can also change them for the holidays or add new decals to advertise specials and new products.
Be Creative
When you put decals or get a business logo car wrap, you have complete creative control over what the finished product looks like. You decide on the colors, the graphics, and the text. This means you can get very creative. Many people add graphics that help communicate what their business does. Some even take professional photos of themselves or their team and include it on their vehicle. It's completely up to you. Of course, you do want to make sure that the final design is easy to read and fully communicates what you want it to, but other than that, there aren't really any rules.
This means you can make your brand stand out. You can look at what other businesses have done with their decals and wraps and do something different. You aren't as constrained as you would be with a billboard or banner. Get creative and design something that will truly promote who you are and what you offer customers.
Add Decals to a Fleet of Vehicles to Advertise and Build Trust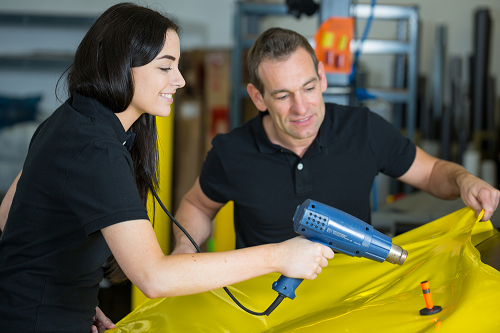 If you have a fleet of trucks, vans, or other vehicles, you can add decals with your business logo, name, and other information. This is great for businesses that visit customers at home because it advertises you to their neighbors, but it also tells customers who is coming to their home. There have been a number of scams involving people claiming to work for a utility or other service in order to get personal information. Sometimes, they use these visits to case a house before returning to rob it. Other times, they attempt a home invasion right then and there.
With decals on your vehicles that identify your company, it helps build trust with your customers and potential customers. They will know who is knocking on their door and who is parked on their street.
How Do Vinyl Car Decals and Wraps Fit into a Marketing Campaign?
Now that you understand how you can use decals and car wraps to effectively promote your business, it's time to look at how these options can fit into your campaign. Many people ask which targeting option is best for achieving brand awareness. While it would be great if you could find the one option that was the best for you and channel all of your marketing resources into it, the truth is that there often isn't one best way.
That said, there are options that give you a better return than others. If you've tried billboards and found that they don't seem to be doing much for you, move that money into vehicle decals and wraps. You will spend less money since these are often one-time expenses. However, you may find that you do get more of a return because you're advertising in more places.
That said, vinyl car wraps shouldn't be the only component of your marketing campaign. You'll still want to invest in custom signs, banners, stickers, and other items. All of these pieces of a campaign can be used to address specific sections of your customer base. Your car decals will market to potential customers who may not be physically near your location. Stickers help improve your customer retention. Banners and signs market to those who pass by your store or office.
All of these different components have a part to play, and a strong marketing campaign will incorporate all of them.
TNT Signs Can Wrap Your Car and More
If you've been searching for "vinyl wrap car near me," your search is over. TNT Signs has years of experience in wrapping cars and applying decals to vehicles. We can assist you in adding the right decals to your vehicle to promote your business wherever you go. We also print banners, signs, stickers, and other displays, and we can help you create a coherent set of marketing items that work together to establish your business's unique brand.
Whether you need a car decal for a single vehicle or are interested in wrapping your entire fleet, TNT Signs is here to help. Contact us today to discuss your options and to get a quote.