Vehicle wraps are one of the most effective forms of marketing your business.
A vehicle wrap is the marketing practice of completely or partially covering (wrapping) a vehicle in a vinyl material, which may be for a color change, advertising or other promotional purposes. This Vehicle Wrap process starts by covering a vehicle's surface with large vinyl sheets. These vinyl sheets can later be removed with relative ease, drastically reducing the costs associated with changing advertisements. Buses and light-rail trains have been the most common places to use this form of advertisement due to the ease of application on their straight and flat body styles. In recent years, personal vehicles, work vehicles and fleet vehicles are being used because of the incredible impact the vehicles can make as mobile billboards. Think of Nascar! We see companies pay a ton of money to place their names or logos on race-cars because racing is so popular, is televised every week and seen by millions. Your vehicle will be seen by thousands too as it moves around town. 
Commercial car wraps can be 
a great way to help you advertise on a limited budget. The average cost-per-mile (CPM) for a vehicle wrap is $0.77, according to the Outdoor Advertising Association of America. Car wraps earn 30,000–70,000 daily impressions. In an RYP & Becker Group study, 97% of people who saw vehicle ads remembered them, 98% thought the ads had a positive influence, and 96% of respondents thought that vehicle advertisements were more effective than billboards. Those are some awesome numbers, right? 
Partial or Full Vehicle Wraps
Choosing between these two options is really up to you and to be quite honest, both are extremely effective ways to promote your own business, partially because it's not competing with other businesses. Your car is your own ad space with a vehicle wrap. 
When you choose a Full Vehicle Wrap, the vinyl graphics you create with us are applied to every exterior portion of the vehicle, including sides, rear, hood and, if permitted by the law, windows. 
When you choose a Partial Vehicle Wrap, these graphics are applied to just a portion of your vehicle. Usually, a partial wrap involves art on the rear of the vehicle, partially up the sides, and on the hood. Some business owners always have reservations about partial vehicle wraps as they can look unfinished. However, this is not the case with an innovative design. You should know that partial vehicle wraps are carefully designed so that there is an almost unnoticeable transition between your vehicle's paint and the vinyl. Partial wraps are less expensive than full wraps, and you will have the chance of changing your marketing messages periodically to help in the advertisement of special events or promotions. Additionally, if you do not want to change the color of your vehicle, partial vehicle wraps are certainly an option.
Both Full and Partial Vehicle wraps are effective marketing strategies. These vehicle wraps will help to tell your company's story through visual artwork while creating a buzz on the road. At the end of the day, it's about what you want and what you want your car to look like. Like we've said before, we want what you want, don't hesitate or hold back, this is your business so it's important to us that you get exactly what you want.
Types of Vehicle Wrap Textures
When you are choosing a style of wrap, the price is formed through the square footage of the car, how the design will fit, and the wrap material itself. The details are in the materials, so let's take a look at the different Vehicle Wrap substrates that can be used:
Carbon Fiber – Many people use this wrap on the car's hood. Its textured finish gives the car a unique look.

Vinyl Matte – This less common wrap has a flat finish that does not reflect sunlight. Matte wraps are a fraction of the price of a matte paint job. They're also easy to remove, which means you can quickly go back to your original paint when you're ready for a change or ready to sell your vehicle.

Vinyl Gloss – The vinyl gloss material makes the vinyl look as if it's part of your car's paint and reflects the sunlight.

Chrome – These extremely popular wraps are also the most expensive per square foot. But your vehicle will most definitely stand out. 
Vehicle Wrap Process
A vehicle wrap, car wrap, and truck wrap process consist of three steps.
Design:
We begin a vehicle wrap by taking accurate measurements of your vehicle and take into consideration the design of what you want displayed. We collaborate closely with clients throughout the design process which is supported digitally. You'll be able to make comments and steer the design process depending on how you see your design modeled and superimposed on digital vehicles just like yours. You can share your digital designs and ideas online with our design teams so that all ideas can be reviewed and finalized. We want what you want, so don't hesitate to be in contact with us during this process.
Fabrication: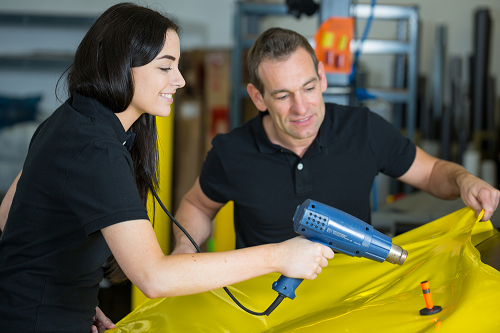 Here we take the graphic you've helped us create and print and laminate it to the vinyl substrate. We at TNT Signs and Graphics take pride in being the best in Santa Rosa and all of Sonoma County by keeping all abrasions from occurring. We eliminate the risk of UV ray exposure that could damage the wrap or cause it to fade out. Another great benefit is that it will help protect your vehicle's paint job. In fact, future buyers will know right away that the paint job underneath a vehicle wrap has been preserved for all the time that the wrap has been adhered to the vehicle's surface; and vehicle wraps can last seven years or more. Vehicle wraps end up protecting the paint and prevent future scratches, dust, and UV damage from ruining the paint job underneath. Wraps do not stick to rust. If your vehicle has chipping paint a wrap may pull the chipping paint when removed. 
Application
:
The final step in a vehicle wrap, car wrap, or truck wrap process is to apply the wrap to your vehicle. This is the fun part because this is where the creation becomes reality. There is no damage to your vehicle during this process. There will be no air pockets, scratches or dings. If we've put this on your side windows, there's no worry. All visibility will remain just as if the vehicle wrap wasn't there at all. Once you are ready for the vehicle wrap to be removed, the process is so simple, and it'll be like the graphics were never even present. 
How long will Process Take
Well, it varies. The installation is usually completed within one to three business days. The exact time depends on the size of the vehicle, amount of wrap coverage, and the complexity of the wrap. The hardest part about any design creation is if it works out for you. Your vision is our vision. If you want us to create it ourselves, our team of expert professionals here at TNT Signs and Graphics can complete your project in a shorter deadline. Once the design phase is completed, we will give our customers a time frame of completion prior to starting the wrap installation.
Estimating Costs
Obviously with most types of effective advertising there are costs to be considered. However, the cost for a Vehicle Wrap is much less than other marketing strategies. It has been proven that the cost per impression (CPI) of vehicle wraps is less than other forms of advertising such as billboards, television, radio, and yellow pages. If you are using your vehicle wrap to improve the appearance of your vehicle, digitally printed vehicle wraps simply cannot be duplicated by more traditional methods like paint or airbrushing. With any advertising campaign, all pricing depends on your design needs. Vehicle Wrap coverage, size of the vehicle, quality of vinyl and complexity of the job are all key factors that should be considered when determining the overall cost of the vehicle wrap. 
Care
With any shiny new toy, you should always want to take care of it. Especially, when it's your car and you've paid to have your business advertised on it. No future customer wants to look at your vehicle advertising if it's in bad shape, so caring for it is essential to the success of vehicle wrap advertising. We recommend hand washing your vehicle with a non-abrasive sponge, soap and water. Do not high pressure wash the wrap, it could cause the vinyl to tear or peel. Avoid using ice scrapers on the windows that have perforated vinyl. The vehicle wrap can last for 7 years if it's properly maintained. Come back and see us, if there is anything you feel that needs to be cared for. 
What to look for in a Vehicle Wrap Company
A reliable vehicle wrap company will understand that this is a competitive world and so many employers are seeking out ways to one up their competition with fresh ideas, new deals and special promotions. We are here to help with this and if you want to change it up and do something different with your vehicle wrap, then let's do it. We'll start developing ideas in the meantime, so when you come back in to change it up, we will have those ideas and designs ready to go. Removing a vehicle wrap is relatively easy and doing something different is understandable and recommended. A reputable vehicle sign company will happily walk you through the creation/development process. Our team at TNT Signs and Graphics will do just that and explain all requirements including design, the best materials to use and any changes that are made. We truly understand that multiple vehicle wraps are an effective marketing tool for anyone trying to get a leg up on the competition. 
Why Consider TNT Signs and Graphics?
We all can agree that the options available to us to advertise and promote our businesses these days have exploded. There are new and amazing ways to promote your business and since 1984, TNT has always been passionate about the design and implementation of innovative ideas that bring awareness to companies who use our services. We are always looking for that edge and will do everything in our power to stay on top of our game. 
When you are cruising down the highway you want to see the car beside you and notice car graphics that are fresh, calming, or exciting. We can help you break through and enter new markets just make sure to put your brand front and center. A logo, your name and website, or your new promotion will all create a question in the minds of the consumer. They'll want to know more about you. Maybe they just get a name, so they google you. Maybe they see a website, so they visit you. The best designs are the ones that evoke a feeling and we're here to help. Let's evoke a feeling through a vehicle wrap.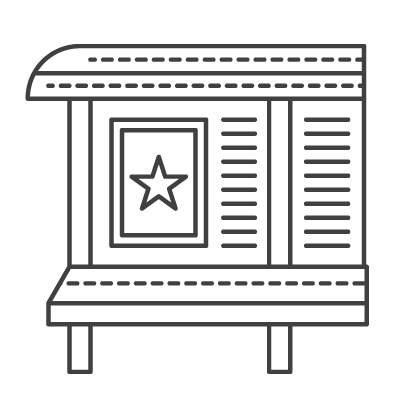 Custom Signs
We boast a comprehensive portfolio of quality custom signs for all types of interior and exterior applications and locations.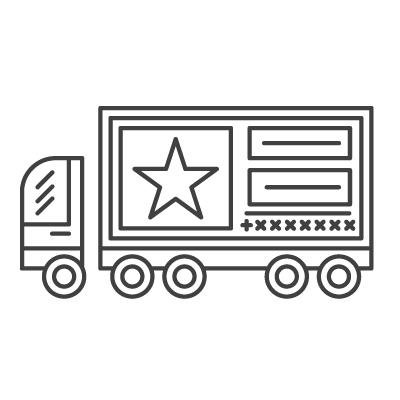 Vehicle Solutions
Vehicle wraps, partial wraps, and business identification on doors and rear windows are just some of the solutions available.
Displays and Business Signs
Our full color retail displays and tradeshow displays attract attention and help you to sell more product.
Get Started on a Project
If you would like to get started on a sign project, please fill out the form below and we will contact you right away:
Window Graphics
Floor Graphics
Wall Graphics
Vehicle & Fleet Graphics
Labels & Decals
Unique Sign Applications
Point of Purchase Displays
Standees & Cutouts
Posters
Building Signs
Electrical Signs
Real Estate & Commercials Signs
Yard & Site Signs
ADA & Regulatory Signs
Architectural Signs
Graphic Design
Corporate Identity
Branding Integrity